A market that trades mainly in clothes, Pratunam is the largest clothing market in entire Thailand. Located in the heart of Bangkok, at the intersection of Ratchaprarop and Phetburi roads, in the district of Ratchathew, it is the best place to shop for clothing, fabrics, and textiles, at unbelievingly rock bottom rates. You can easily reach the market if you walk along Ratchaprarop Road. An indicator points towards the Pratunam Market that spreads over the entire area around and behind Amari Watergate and Indra Regent Hotels.
As you dive onto one of the many lanes, you will reach the main market area, with colorful mazes interesting each other at random. Hit any of these lanes, as they look almost the same. You will find clothes in all shapes and shades, ranging from traditional outfits, funky dresses to formals attires, dangling from the inviting shops here. Small shops and stalls are squeezed in both sides of the area and exhibit a spectacle, in the form of casual wear, beachwear, children's wear and eveningwear.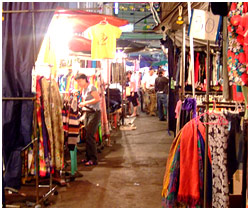 Want to look out of the ordinary? No worries! You will find a huge range of outlandish outfits at Pratunam that will lend that perfect Bohemian touch to your wardrobe. From colorful wigs to flamboyant dresses, you can pick some of the best atypical outfits from here. Additionally, people who are into designer wear will drool over the huge array of designer fakes in the shops. They do not compromise on the quality and couture, but are incredulously cheaper than the real ones that line exclusive boutiques.
Do not shy away from bargaining, as haggling over the price is a common practice here. In fact, you can pick more than 2-3 items to get wholesale benefits on clothes. Once done with piling bagfuls, keep walking and you are out of the market area. Now, if you want to add a few more items to your shopping loads, you can go and scan the six-storied Bai Yoke Building outside, which devotes all its levels to clothing. Pratunam Market is open everyday, from morning until late in the evening.