The name 'Bangkok' brings to mind, either the image of crisp metropolitan air or quixotic Oriental aura. However, a visit to Safari World promises a voyage that is quite different from the stereotypical images associated with the city. Distinguished as one of the most spectacular open zoos and leisure parks in Thailand, Safari World takes one to the deepest folds of wilderness and offers opportunities to scan wildlife from the closest quarters. The best part is that being divided into four zones - Safari Park, Bird Park, Macaw Island & Games Corner, it offers varied opportunities for fun, frolic and excitement.
Located in the Minburi District of Bangkok, Safari World spreads out on an area of 300 acres of lush lands. The mysterious realm of the Safari Park, inside the Safari World, is the favorite hangout of most tourists. You can either drive your own vehicle or board a safari mini coach to explore the 8 km-long stretch of Safari Park. It offers some very good opportunity for witnessing rare and endangered wildlife species, belonging to different parts of the world. Another major highlight of the park is watching the Tiger & Lion Feeding Show.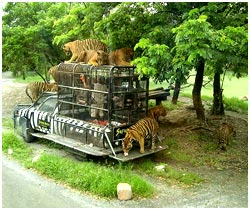 Marine Park is another splendid destination inside Safari World. Its seven amazing animal shows and live action stunts are popular amongst all the visitors. Different attractions include Orang-Utan Boxing, Bird Show, Sea-Lion Performances and Polar Bear Feeding. The exciting Hollywood Cowboy Stunt Show, where cowboys and brigands wrestle for power and perform dangerous stunts is another major draw of the park. Besides, one thing that you should never miss is the 'Spy War Show', organized inside the park.
Spy War Show features spectacular Para-trooping stunts performed with various special effects, which make the show even more interesting. Those looking forward to witnessing some intimidating wildlife can boat a Jungle Cruise through the tropical forests and encounter wild head-hunters, sharp-toothed crocodiles and ferocious gorillas amidst the jungles. In addition, when all these excitement finally leads to a growling stomach, you can simply head to the numerous food joints and refreshment kiosks scattered around the park.