When it comes to the sensational nightlife of Bangkok, the to-do list can be quite unending. Once night sets in and the notorious traffic subsides, you will be flabbergasted by the exciting weight of the city's nighttime revelries. Whether you want your nocturnal excitement to be a low-key affair or wish to dive headlong to some boisterous merriment, you can happily choose your likes. From excellent jazz clubs, high-end bars, swanky clubs, electrifying discotheques to enchanting night bazaars, the heaving nightlife of Bangkok offers everything. Add on to that spectacular transvestite shows, exotic go-go bars and homosexual venues, and you know what makes Bangkok a phenomenal destination of Thailand.
Excluding such errant pleasures, Bangkok also has many understated excitements trapped within its domain. Those looking for low-key pleasures should check out the night bazaars such as Suan Lum, which is a great destination to grab some late night bets. In addition, you can also witness the pool of cultural treats in Bangkok at the famous Patravadi Theatre, which shows a perfect fusion of both traditional and contemporary presentations. Another very good option is to head for the magnificent performance of Siam Niramit, with its heady amalgam of theatrical features like magical illusions, airborne performances, acrobatics, and pyrotechnics.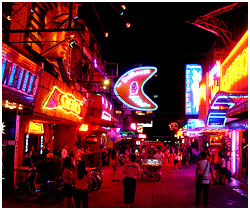 For those looking forward to some intimacy, a dinner cruise on a barge down the Chao Phraya or a romantic dinner in a rooftop venue offers unmatched ambience. Another thrilling nighttime affair is checking out live performances that take place around the city. The various bands cater to all sorts of musical genres, from rock and blues to jazz, pop and heavy metal. Furthermore, these musical razzmatazzes are organized in different settings, from boisterous pubs, dim-lit bars to sophisticated hotel lobbies. Therefore, apart from treating the eardrums, catching such musical shows in a pub or a bar also offers a great chance to unwind and relish heavenly food and drinks.
An additional activity that is a hit among nighttime revelers in Bangkok is disco bopping. Thai and Western-style discothèques scattered around the city lure many people with their unique delights. Especially, Thai discos that often feature a 'katoy' (transvestite), or a bikini lady, which is very popular among visitors. In fact, Thailand shows a great amount of tolerance towards homosexuality. Therefore, homosexual pleasures in the form of ladyboy cabarets, gay parties, gay go-go bars, gay pubs and lesbian shindigs are also common names in the multifarious nocturnal affairs of Bangkok.