Siam Niramit is a spectacular cultural-cum-entertainment show of Bangkok, which forms one of the most exclusive tourist attractions in the whole of the Siam Kingdom. With its larger-than-life theatrical portrayals, Siam Niramit takes spectators through some enchanting episodes of Thai history and culture. The Siam Niramit complex, which forms the site of the show, is located on a huge plot of land in Central Bangkok, on the Tiam Ruammit Road, opposite Thailand Cultural Centre.
The whole project of building this cultural entertainment complex cost 1.5 billion baht. The massive stage, which presents over 150 artists, with as many as 500 costumes, even finds a place in the 'Guinness Book of World Records'. The backdrop of the stage is as flamboyant as it can get. Both local tastes and international standards are kept in mind, while fabricating even the minute details of the stage scenery.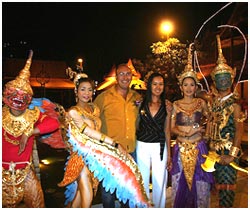 Apart from the ostentatious performers, magnificent attires and excellent stage setting, another important feature of these shows is the incorporation of special effects, generated by some of the world's most sophisticated technologies. Thus, the whole 80-minute journey of the show is a heady amalgam of features like magical illusions, airborne performances, acrobatics and pyrotechnics. Another major draw is a live elephant on stage.
The Siam Niramit Complex also clasps some replicated villages of Thailand and has restaurants, comprising of dining facilities for as many as 800 visitors. In fact, it is the best place to relish some of the most authentic delicacies of Thailand. Everyday, Siam Niramit shows start at 8 pm, making it one of best nighttime entertainments of Bangkok. Tickets are for 1,500 baht per individual (excluding dinner).